PORTLAND, Oregon — I left the house thinking I would ride my bike east – I had only the vague notion of riding toward the rising sun, toward the "actual Portland" part of Portland. I threaded through the mismatching meshwork of streets and avenues to a snack stop at a Plaid Pantry convenience store. Street construction guided me to a familiar avenue with a name I can't recall. I knew where I was, I should be able to find it on a map, I just can't recall as I'm typing this.
No worries, because it doesn't matter. I turned right on Belmont and rode up the long, grinding hill to the top of Mount Tabor, the first of the three cinder cone volcanoes I would visit, although I didn't know it at the time.
When I reached the gates on Mount Tabor, I rode past them and continued ascending. I must not normally ride this way, because I don't remember having the occasional views of Mount Hood and Mount St. Helens through the stands of evergreen trees.
The road curved to the right and when I thought it would start to get more difficult, I saw the curb in the middle of the road that sort of separates the two car lanes near the top – the roadway circles around a park area. I was at the top and it was pretty easy. Or, comparatively easy. I sat on a bench where I had a view looking back at my apartment, back over the Tillikum Crossing, back to downtown, a view that reminds me that downtown Portland is in the floodplain of the Willamette River.
I thought maybe I should go to another volcano, so I rode down the hill to Belmont Street, down that long grinding descent and back into the intersecting lines of city streets where I made my way to Powell Butte.
Riding the fixed gear everywhere is like riding uphill both ways (but not necessarily chest-deep snow, howling dust storms, plagues of locusts … and I had shoes). I asked Google for a good route to Powell Butte, roughly southeast of Mount Tabor. Like Tabor, Powell Butte is part of the Boring Lava Field and is an extinct cinder cone. Hey, cinder cones are still volcanoes. Shortly after leaving the park boundary, I took a right and kept descending following the voice that kept interrupting Skálmöld cranking out of the small, red wireless speaker.
I found a trailhead entrance to Powell Butte at the end of SE 148th Avenue, and while I saw a notice about a cougar sighting, I saw nothing about bikes, so I continued south briefly before turning left to the start of the climb up the dirt trail. I rode some of it, walked some and rode some more until I passed through the canopy of trees to the open sky of the meadow on the top of Powell. I rode the gravel roads of the meadow upward, toward the extinct volcano's highest point, which gives a decent view in all directions, including Mount Hood, Mount Jefferson, Mount Adams and Mount Saint Helens, on a good day.
The mountain finder, which is a semicircular half wall, on top of which are small, fin-shaped metal ridges that serve as pointers to some of the other mountains and buttes one can see from that vantage point.
From that promontory one can see Rocky Butte and other smaller cinder cones, as well snow-capped and distant peaks of the Cascades.
While standing there I started thinking about Rocky Butte and how I've never been there before. I also thought about my Seattle to Portland mountain and gravel bike tour a year ago and how I stood on that summit looking back to the north, my bike next to me covered in dust from that trip. It was about a fortnight before it all burned to the ground.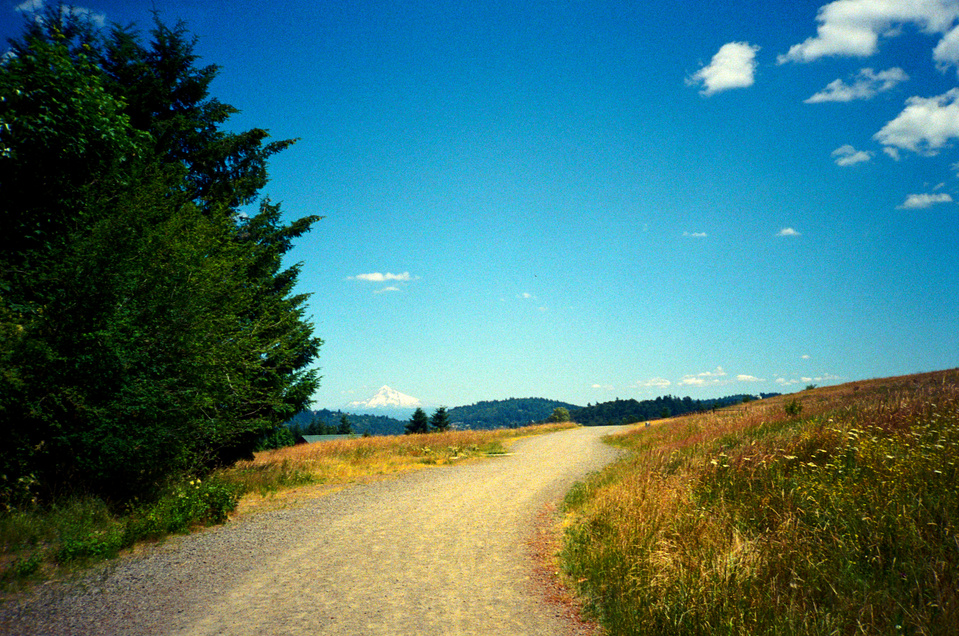 "Three volcanoes in a day sounds pretty good," I thought, weighing with the time of day and how I thought I may need to head home. Casting aside adult responsibility, I decided to go to Rocky Butte on my way home, although it was far out of the way. I descended Powell through a different route that how I ascended and found my way to the grid of mismatching street surfaces, punctuated by cracks and 90-degree intersections.
Straight, left, right, northwest toward Rocky Butte. Like elsewhere in Portland, the streets were reasonably flat until they were not. The transition from flat to climbing Rocky Butte was stark, or maybe I was just getting tired. I climbed up and up, around switchbacks and through a tunnel.
Up and up, a little respite, then a curve, then up.
The climb wasn't totally spirit-crushing as other ascensions that seemed to go over the sky because I knew Rocky Butte wasn't all that big. I found my way to the top after what seemed to be the steepest climb so far.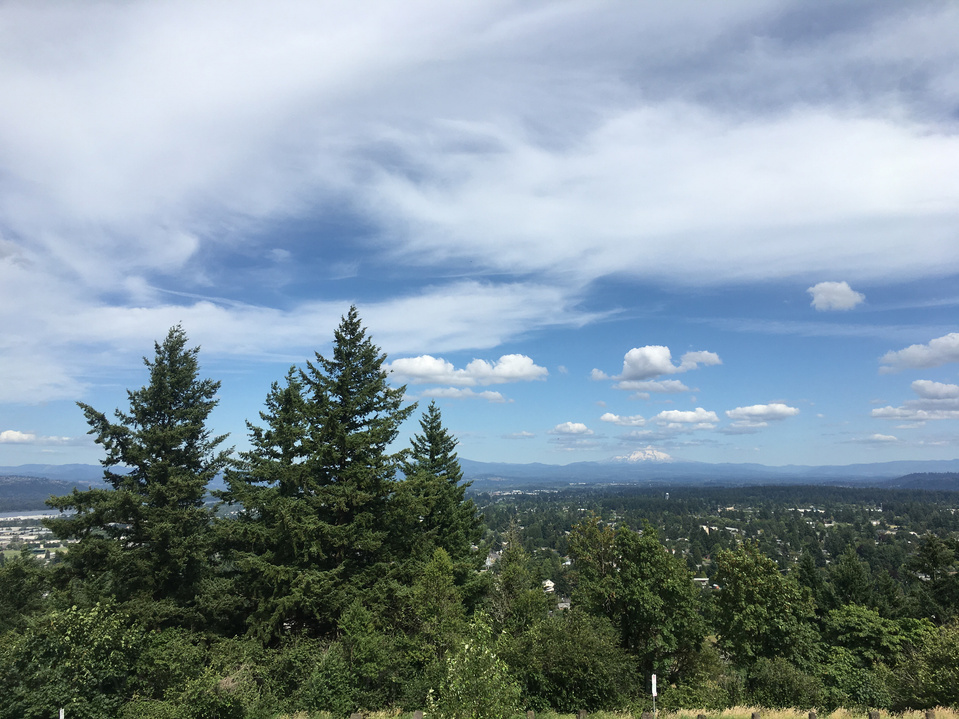 Joseph Wood Hill Park, the walls of which are a WPA project, sits atop the cinder cone while the surrounding hillside is sort of the Rocky Butte Natural Area. I think we're supposed to just keep an open mind and accept a wide definition of what a "natural area" is.
The northern end of Rocky Butte shares a land mass with The Grotto, which is a former military installation and a current religious thing. The top of the butte has a decommissioned aircraft navigation beacon that was built in the early 1930s, when the Portland airport was still on Swan Island. The northern end of the cinder cone has ledges and boulders that are popular in the Portland climbing scene – at least that's what the internet tells me. Although I'm wearing 5-10 Approach shoes, I don't do a lot of climbing.
Regardless of legal or political designations of Rocky Butte, it has what the other summits of this adventure have: an epic view. From the low walls of Joseph Wood Hill Park, one can watch aircraft takeoff and land at Portland International Airport. One can see the Willamette and the primary blue and yellow of IKEA. Mount Saint Helens and Mount Hood stand out among the Cascades and Coastal Range mountains. This promontory reminds me that downtown Portland is in a floodplain bordered on the west by the Tualatin Mountain, which is dwarfed by peaks in the distance. Next time I'll add nearby Kelly Butte and make it the Four Volcano Traverse.