AUSTIN - I wasn't completely sure about the Schwalbe Marathon Mondial 26 x 2.15 Evolution I mounted to replace the Surly Dirt Wizard 26 x 2.75. I mean, they're burly tires meant for the craziest expeditions over the most unridable surfaces with an elephant strapped to your bike, with an expectation for ridiculous amounts of wear. They're smooth enough on pavement/tarmac/bitumen and handle dirt roads, hard packed trails and moderate soft surfaces with aplomb.
I blame it on Surly. They released what looked like the perfect tire and I had no intention of buying them and was perfectly happy with my Mondial/FR 570 combination. Nope, not spending more money. I was on the fence about running the Mondials tubeless (they seemed more than sturdy enough,
and mounted solidly on the tubeless-ready rims) … but I probably wasn't going to do it.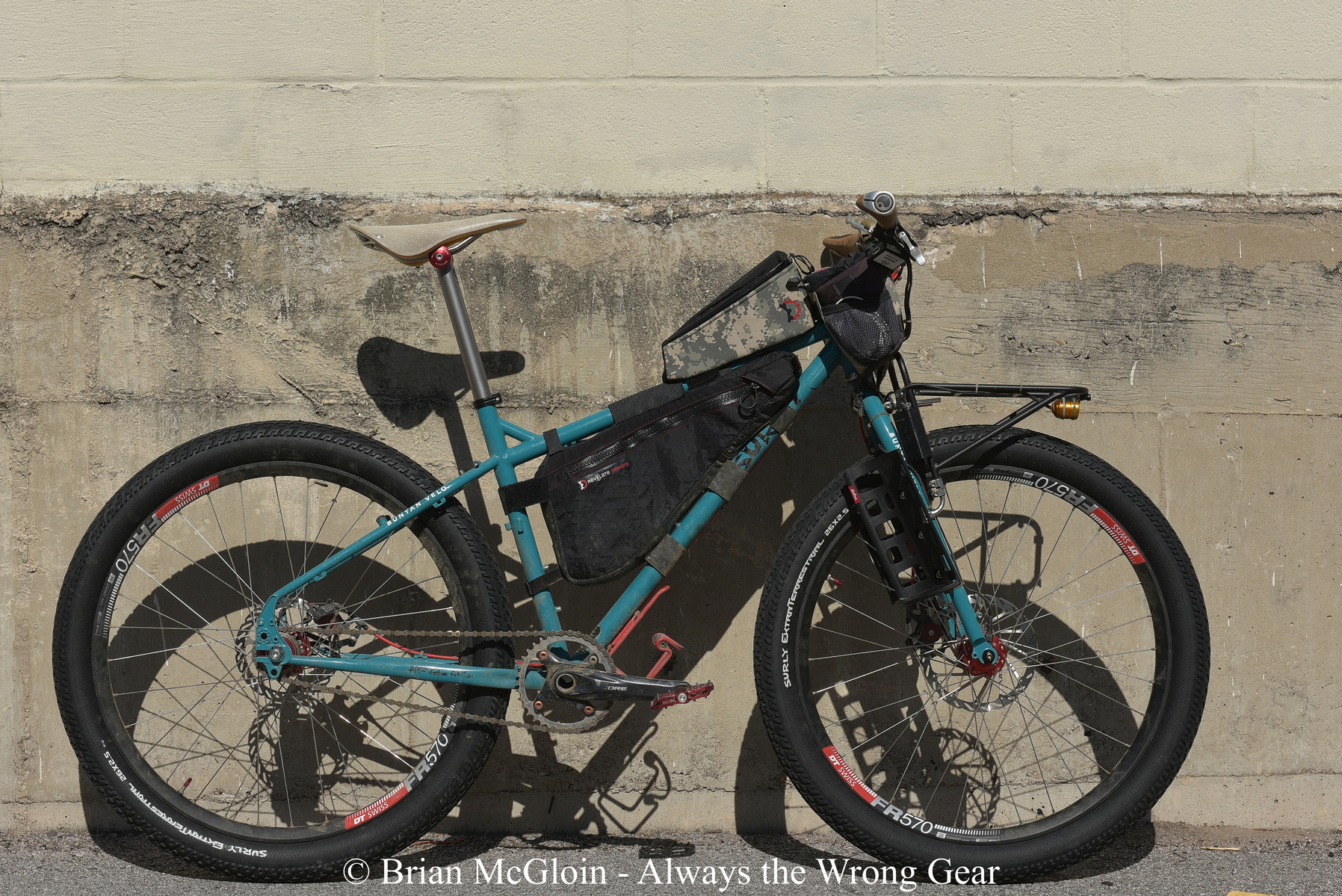 Well, the perfect tires I wasn't going to buy, Surly 26 x 2.5 Extra Terrestrial, arrived today, along with a tubeless kit from Orange Seal. I mounted the tires onto the DT Swiss FR570 rims (33mm outer, 27.5 inner) with a degree of effort.
The rims are somewhere in the middle of widths for which the ETs were designed, so I was happy if they fit a bit tight. Also, being tubeless, I was especially happy, although I mounted them
with the "thornproof" tubes from my idle Surly Dirt Wizard 26 x 2.75 tires (which are for sale!). I'll get to the tubeless this weekend.
I figured 2 bars in the front and 2.5 - ish in the rear would be a good starting point. The rims have a maximum of 3 and the tires … well, more, but it doesn't matter. I can't imagine such a big tire at more than 3 bars, especially with a cutout rim like the Surly Rabbit Hole (which now I wish I still had laced. Damnit) where that much pressure will bulge the hell out of the Surly rim strips and make it difficult otherwise.
These tires aren't something lightweight for race day; no, they're sturdy with a reassuring heft. Holding an ET with an extra thick tube in one hand, and a Mondial with an extra thick tube in the other, the ET seemed lighter, which is interesting because it's noticeably bigger.
A few laps around the parking lot reveal they roll a wee bit like a larger wheel and are fairly smooth over asphalt static and speed bumps. It's not rocket surgery, they're big tires.
I should be writing a German paper instead of mounting new tires, giving them a quick test and taking pictures. I'll have more pictures, more writing and some long term testing coming up from Burning Man, the Great Divide Mountain Bike Route and other adventures.
More information: http://surlybikes.com/parts/tires/extraterrestrial_26_x_2.5
-30-