This is the third and final part of my bikepacking adventure from Seattle to Portland. It picks up in the Olallie Lake Campground in Gifford-Pinchot National Forest in Washington.
I gathered my small camp together and packed up the Troll while my camp neighbors continued to throw food at me (I still didn't mind). I took a left out of the campsite and shortly was in the warm embrace of gravity.

That sweet embrace pulled me slowly downhill over those soft, dusty roads, out of the Pinch, past farms and people and a small country store, down to Trout Lake. I relaxed in the small town of about 550 souls for a little while with a huckleberry smoothie and a cell signal.
My Portland camp neighbors from the previous night drove through and stopped to bullshit some more.
I felt lethargy creep in so I got back on the road, stopping at the Mount Adams park ranger station to refill water bottles before returning to Gifford-Pinchot again for another slow climb.
Forest road pavement gave way to more soft, dusty gravel. Up small hills, down small hills, cars and trucks passed with their usual grey dust clouds.
I stopped in a small clearing across from Goose Lake to drink a Monster I bought in Trout Lake, before continuing on past the awesome lava field after it. I climbed soft gravel for a little while, switch-backing around ridges, until it leveled off and I was no longer fighting gravity.
The grinding uphill reached 3,562 feet elevation, and began the 20-something-mile descent to lose most of that on the way to Carson. I was exhausted, my knees were sore, but I was beyond stoked.
That whole ride down I focused solely on the road: I could barely hear the music from my small wireless speaker, my right arm had a brief itch, I wanted to fix my shirt sleeves.
As I fell from the sky in that wild descent, glee filled the recesses of my mind with the thought of finally leaving the Pinch for good. The beginning of this last big descent was tough keeping the bike aimed in a straight line on that soft gravel. I probably should have stopped to put my helmet back on, but I was so stoked with finally descending that I never got to. I was wearing the Mt. Rainier hat I purchased earlier at Paradise Lodge, which was a good way to celebrate this wild descent.
That fall from the sky brought me to the Columbia River Gorge, to tiny Stevenson, where my bad motel habit found me. I stayed in a wildly overpriced, shitty Rodeway Inn.
I showered, drifted in and out of sleep until I decided I needed food from the only thing available: the convenience store down the street. I ate breaded french fries and some other crap while sitting on the floor watching a MASH marathon until my eyes wouldn't stay open.
Snoring gave way to open eyes and sore legs. I got myself together and carried the loaded Troll down the craziest, jankiest (non ADA-compliant!) set of stairs to check out. Continuing on my way west, I passed a small bluegrass festival in Rock Creek Park. I paused the Ministry playing out of my wireless speaker as I rolled along the southern edge of Washington, guided by a medley of bluegrass music.
That path faded to a short ride down a dirt road, to a bucolic, forgotten road quietly making its way up a gentle slope, where it terminated at Evergreen Highway. I turned right onto the busy highway, then quickly left on to the impressive Bridge of the Gods, which guided me back to Oregon.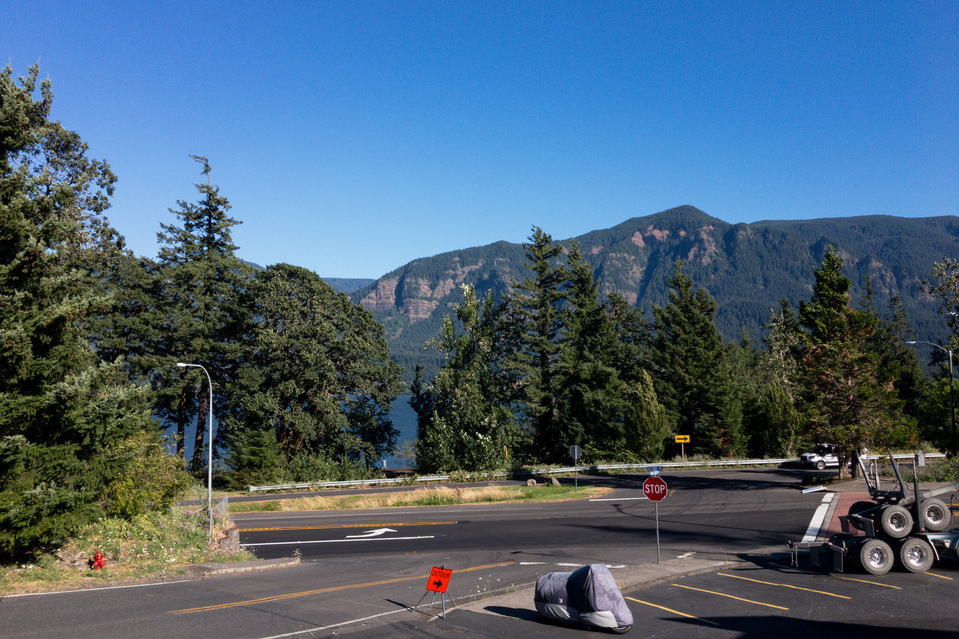 Once I crossed the mighty Columbia River into Oregon, I took a short break near the bridge in Cascade Locks, before rolling onto the Historic Columbia River Highway Trail, which brought me along the southern shore of the Columbia River most of the way to Portland.
I rolled along the bucolic road with its stone walls and narrow stone promontories high above the river, past the salmon hatchery. I walked my bike up the crazy stairs, making use of the rails to push my bike up. Farther westbound, I ground my way slowly up the curves and switchbacks, up that hill to the Vista House. I stopped for the view, two cans of cold Coke and a package of cookies.
A little more climbing got me to the summit, as it were, then an easy cruise onto Troutdale through some convoluted detour around a street closure.
The trees and gorge vistas gave way to … um … big trucks with American and Confederate flags; wide, straight streets with several lanes each direction, strip malls, ugliness. A suburban nightmare.
I deviated from John's original route at SE 162nd Avenue, skirting the eastern edge of Portland, riding south to Powell Butte. I rode and pushed up the 45-degree (it seemed) paved driveway — this was my first entering from the north side, I usually come up the trails from the southern side. I climbed to the top of the pavement and continued to the gravel trails, to the "summit finder," which points out the nearby volcanoes. Mt. Adams is there, along with Mt. Hood, Mt. Jefferson, Mt. Saint Helens, some of the buttes, but no Mt. Rainier, which may be too far away. I thought Powell Butte was a good way to approach the end of this adventure, with a look back to where I rode, what I had done.
After soaking in the view, and speaking with people who were curious about the tired guy with the bike, I continued down the north side of the butte, through the trails and giant douglas fir trees to the Springwater Corridor, which I rode to the Sellwood neighborhood of Portland.
There, I took another part of the Springwater, over its gravel section, to the end near two awesome shops: Splendid Cycles and Rivelo. One can take the MAX, streetcar or bus from here. I live just over the Tillikum Crossing, but I was beat and decided to take the streetcar, which has a stop a block from my apartment. My wife met me at the Harrison and SW 3rd stop of the A loop street car and we walked down the pedestrian way to our apartment. In about a fortnight I would be heading to Burning Man for the sixth time.