This is part 2 of my bikepacking trip from Seattle to Portland. It picks up just west of Mount Rainier National park.
I weaved my way through the park, past the Longmire Lodge, over a burly wooden bridge over the Niqually River, then right onto the Paradise Valley Road, up to Paradise Lodge. Up, and up … and up. Switchbacks, climbing and epic views of the volcano and surrounding forests and hills and distant mountains.
[Unrelated side note: If you've ever seen the television series Longmire, you may have noticed he drinks a lot of Rainier Beer]
Road construction repaving the roadway delayed the stream of RVs, pickup trucks and packed minivans sharing the road with me. Sometimes it gave me a car-free break, other times it kept me waiting in a queue for a pilot vehicle to escort the RVs, trucks and minivans. Climbing to the sky, it felt, I started out in too big a gear, pushing too hard, thinking it wouldn't be that long of a climb. A few miles in, I was in consecutively lower gears, moving slower and slower, wondering what I had gotten myself into.
By the time I got to the Paradise Lodge, I was pushing the Troll (as in walking) slowly.
I bought a hat and commemorative patch (which Kim at the Portland Chrome store expertly sewed onto my old grey hip pouch) and a $14 lunch that consisted of a square of frozen pizza and two cans of cold soda.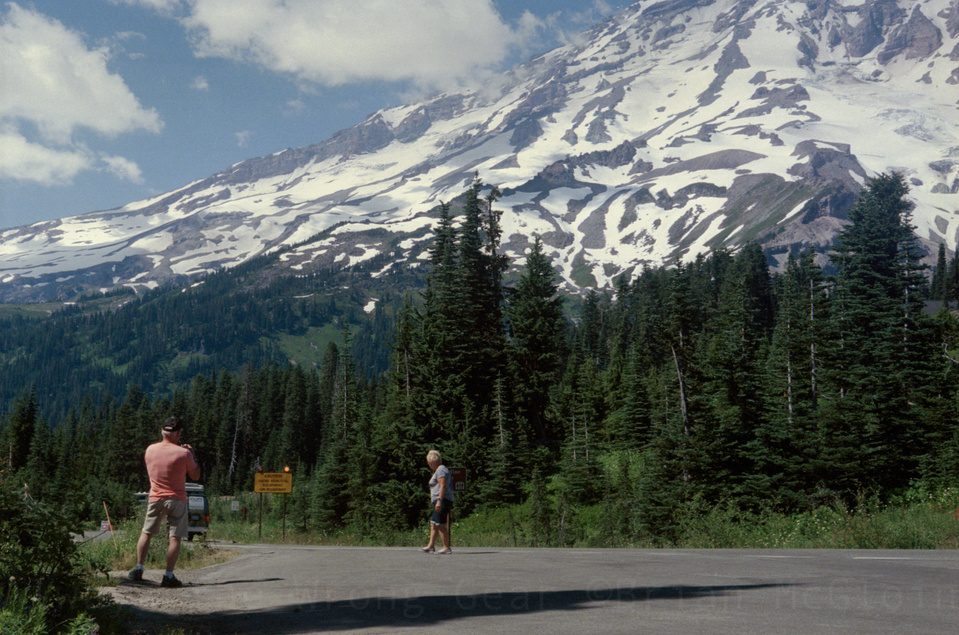 As I sat in the shade made by the large doors being open, a few people came up to ask me about the bike and where I was going. Although it was crowded, I was the only idiot who rode a bike up that damn hill.
The human interaction was a good thing, and helped me recharge enough to get back on the Troll and head to that first big descent, down Stevens Canyon Road, then the right on U.S. 12 to Packwood.
Gravity pulled me down the hill at a respectable 36-ish miles per hour. I descend (and climb) like a cannonball. It was good until I came up to a packed minivan in the middle of the road. The driver was on the brakes the whole time going 22 miles per hour, in the middle of the road. I couldn't get around them and was getting grumpy - did I mention they were in the middle of the road? A few times they had to swerve out of the way of oncoming traffic, because they had drifted to the opposite side.
When I reached the town, I found a motel, shut the curtains, cranked the air conditioning, showered and slept. The next morning, I woke up rested, unlike the bunkhouse. Rested but late; I rolled away from there a few minutes before 11, although I first set the alarm for 6. Then I changed my mind to 8, hit snooze a few times.
Upon leaving, I ran into a Kiwi who lives in Australia, but was in the USA to ride the Adventure Cycling Association's Sierra Cascades route. He had to get to Bend and/or San Francisco, I believe, to ship his bike home and something else.
He was in a jam, he said, because he couldn't rent a car and Amtrak was completely out of his way, and he didn't have the time to ride where he needed to be; and something about picking up a package … it made sense at the time.
My new friend and parted ways and I rolled down US 12, stopping at a convenience store for snacks, before making that left turn into the forest service road. Back to the dust and gravel, back to the climbing. He had to get going and I was anxious to get moving south on what was my 43rd birthday.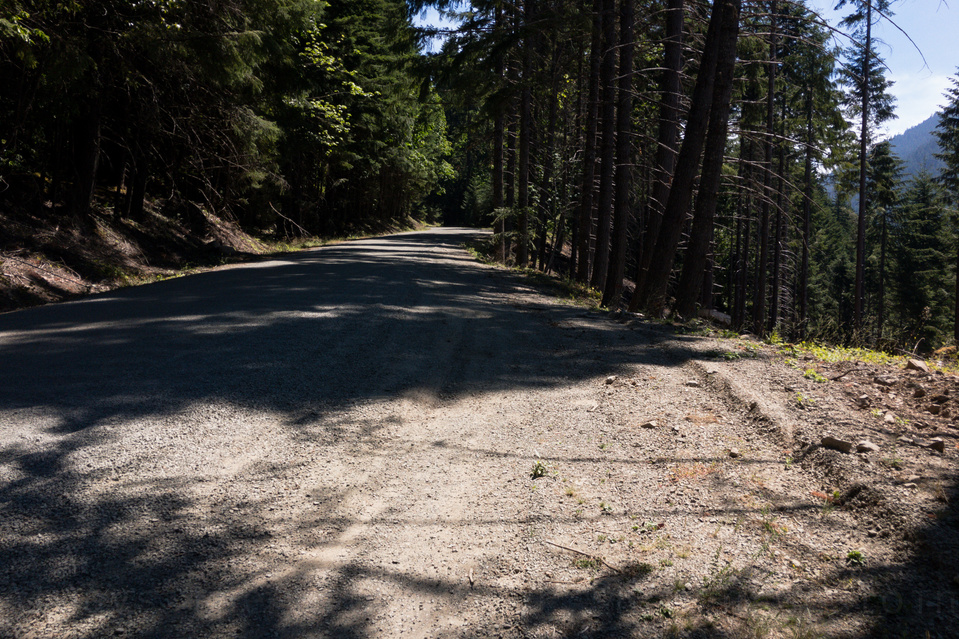 During the long, dusty climb that followed, two separate couples offered to give me a ride up. I politely refused the first, then hours later (it seemed) I accepted the second offer. It was a man and woman, I believe they were married. The man was a navy vet and it was also his birthday – he was talking and navigating while his wife drove.
On the way up, as their truck slid side to side and bounced over dusty, washboard road, we passed the woman who offered me the first ride. The axle on their trailer broke and her husband had gone to get their other trailer.
When we got to the summit of the long climb, my new best friends handed me ice-cold cans of Mt. Dew and orange Fanta. The man and I wished each other happy birthday, I sincerely thanked them a few times and was on my way after pounding a cold soda.
I continued down the soft gravel road for a while, through an intersection or two where the route turns right from a fairly-decent road onto a "how in the hell is this a road." It went from dusty, soft gravel roads to something that resembled a back way to an ocean beach.
If I started the ride thinking my Surly Troll with the 2.5 Surly Extra Terrestrial tire on the back wheel, and 3.0 WTB Ranger TCS Tough front tire (both on 50mm Surly Rabbit Hole rims) were overkill, this was one of the sections where I was glad to have big tires, possibly scorning the frame clearance issues that kept me from running the same 3.0 tire on the rear.
This section of the route seemed like a remote bypass trail to certain death, but at least it wasn't a brutally steep climb with soft sand and uphill rock gardens with a hilarious error in the GPX track.
OK, it was steep and I fought the pull of gravity and frustration around switchbacks, rocks, a fallen tree or two, sand, more flies (but nothing like earlier). It was tough, but at least I could still follow the GPS track on the stem-mounted Garmin. I was able to follow the GPX track to the point in the route where I may have needed the most reassurance, given how little it resembled a "road."
An error in the GPX track manifest as a break in the line on the GPS screen. Gaia GPS (in an iPhone 6s) had no trouble resolving the error, but the Garmin eTrex30x thought was the end of the route and congratulated me accordingly. I was standing on horrifyingly steep hill, next to a wooden post shoved into a giant hole in the ground.
I had a switchback to my left, and steep drop-off to my right, trees all around, and nothing to suggest the summit wasn't that far away. I rode/pushed up a little more, hoping I was still on the right track.
Like many good things in life, one has to accept fate and give up any possibility of happiness or success. Once I did that, the climb leveled off, the road widened and became smoother dirt, then pavement. At the top of that climb is where I saw the left turn into the Olallie Lake Campground.
I saw the first human in a long time, and may have said something like "whoa! A human," out loud as I rolled in to find the last camp site next to my new Portland camp neighbors.
That night, late at night, when I got out of my tent to open a top vent, I stood there stark naked in the silence looking up at the stars — ALL of them — and a passing satellite, and the zodiacal light (I think it's the wrong time of the year for the Milky Way). While it's often difficult to realize how fun an adventure is during the more difficult parts, I knew at that moment, tired and sore, that I was doing the right thing.
It was a good way to ring in my 43rd year of immortality.
In part 3 I arrive back in Portland, after a long but good day of riding.