PORTLAND, Oregon — I decided to follow what I think of as John's Route from Seattle, Wash., to Portland, Ore., by way of gravel roads, national parks big hills and forests. That first day, leaving the sweatbox hostel on Second Avenue in Seattle, I took John's advice and cut off 30-ish miles of paved "total bullshit" through Seattle's south west extremities by taking the inexpensive Sounder commuter rail to Sumner, Washington.
So, in actuality, my bike trip began in Sumner, but that doesn't sound as nice as Seattle … so, let's say Seattle. It can be our little secret.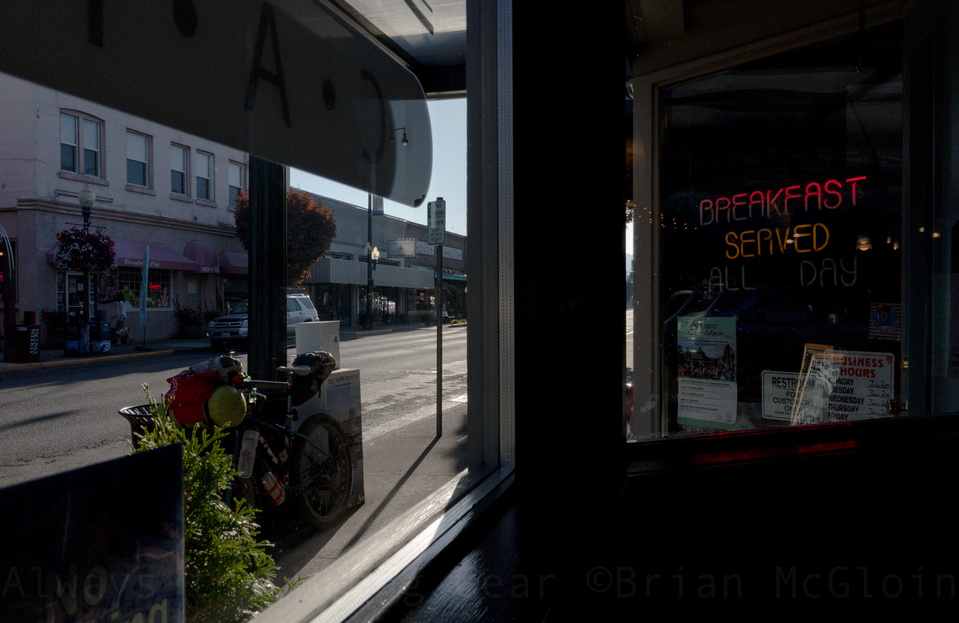 A mix of paved bike trails and country roads brought me from Sumner to the Charles L. Pack Experimental Forest, where the gravel, dust and isolation began.
The ride up to that magic line in the road was fast, and I began to think my Surly Troll with the chunky tires and 1x10 gearing favored to the low end was totally the wrong choice for this route. Certainly, rural gravel roads in the forests of Washington would be hard-packed, and the conditions mildly cool and damp. Right? Oh no … nope, not at all.
My first taste of the steep gravel in that forest was serenaded with gunfire. Boom, boom, boom. pop, pop, pop. Then more firing. Living in cities (expanding that definition to include Austin) and places without gunfire — like Connecticut, where I grew up — hearing gunshots was a cause for alarm. I was on edge for a while until I saw a sign easing my fears about the assortment of weapons echoing around me. The sign said something like shooting was totally legal as long as the shooters followed common safety guidelines.
I passed more than one whole family pointing firearms downrange in makeshift firing lines; all with hearing protection and safety glasses. I waved to a man in one firing line, he looked at me sideways, but waved back. I can imagine it was just as odd for him to see someone riding a bike packed with camp gear in rural Washington as it was for me to see families out shooting guns.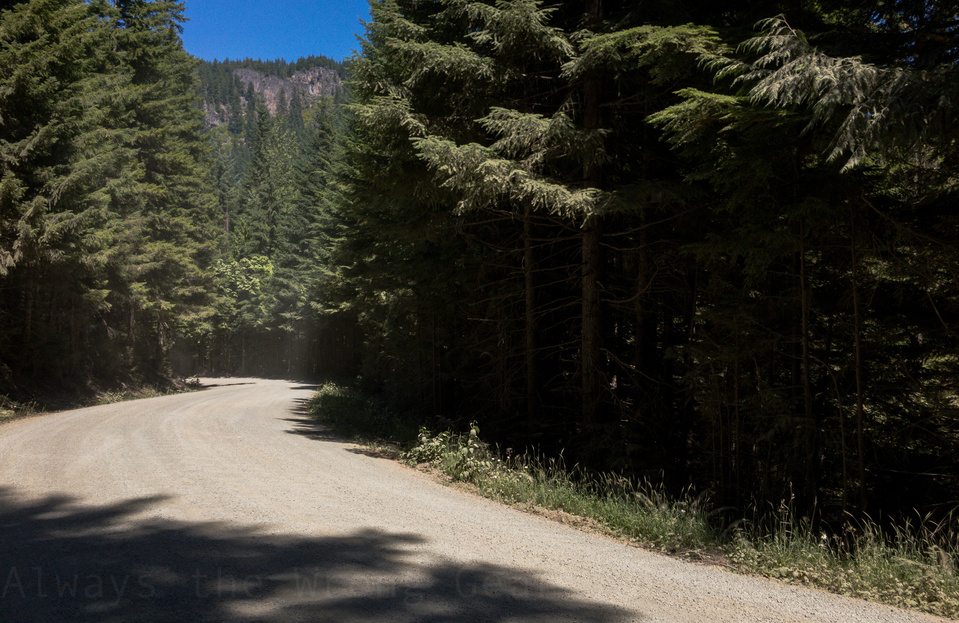 The road leaned to the left, and I stayed in the thinner parts of the gravel, weaving my way through the forest, arriving at the end sometime later, and back to the pavement.
Being near the end of a very arid dry season, the road surface had deteriorated from damp and firm to soft, sandy and deep. As an added bonus, when I stopped moving, the flies would find me. (I used lemon/eucalyptus insect repellent – not "essential oils" bullshit, but a normally effective one from REI – and permethrin-treated clothes). If I grazed or passed through the vegetation on the side of the road, I would be covered in more dust.
The roads were very soft and dusty. I had a mouthful of dust whenever the route ventured from pavement.
The first night of this trip, I found a $38 bed at Whittaker's Bunkhouse, shortly before where I entered Mt. Rainier National Park through a car-free back way. Being as dusty as I was (my legs were grey) it was nice to shower. I would have been content camping behind the place and paying just for the damn shower, or even just a hose.
Sometimes on these trips, when it gets close to camp finding time, if I see lodging, I go for it. I generally feel guilty for spending the money, and silly for sleeping inside while humping a bike packed with camp gear.
One of my big problems during my Great Divide Mountain Bike Route ride (which I need to finish) is that I can't handle being alone very well – I mean isolated; I don't yearn for solitude, I like having people around.
Being isolated messes with me, and I end up staying in motels or hostels/rooming houses way more than I should. I also carried too much shit on the GDMBR, and did it single speed with too big a gear, alone at the end of the season, starting two days after returning from Burning Man, as my first bikepacking adventure.
The bunkhouse was a little warm, but open windows and a sturdy fan alleviated that. My housemates for the evening were going to summit Mt. Rainier in the morning as part of a larger group.
As for me, I was going to ride around the mountain, probably up to Paradise Lodge. I drifted into an uneasy sleep thinking about what lay ahead of me and where I had been that day.
The adventure continues in part 2.