PORTLAND, Oregon – A few months ago I decided it was time to end the short-lived foolishness of multiple gears for a few reasons, the most prominent being that I still rode the damn thing as if it were single speed … always in the wrong gear.
While the title of this website was still appropriate, I thought it was time to go back to my single-speed roots and ditch the 1x10. I wrote a verbose blog post a while back, but never got to posting it, which I'll do now:
Hoo-boy, I'm glad that's over with. Let me get some backstory out of the way first; please bear with the bicycle part bouillabaisse or skip a couple of paragraphs.
After I got back from the Great Divide (which I need to finish!) and subsequent trip to Burning Man, I thought maybe I should have multiple gears on the bike. So, I sold the red Phil Wood KISS & DT Swiss FR 540 & White Industries 18t freewheel wheel for a horrible price and had another wheel built.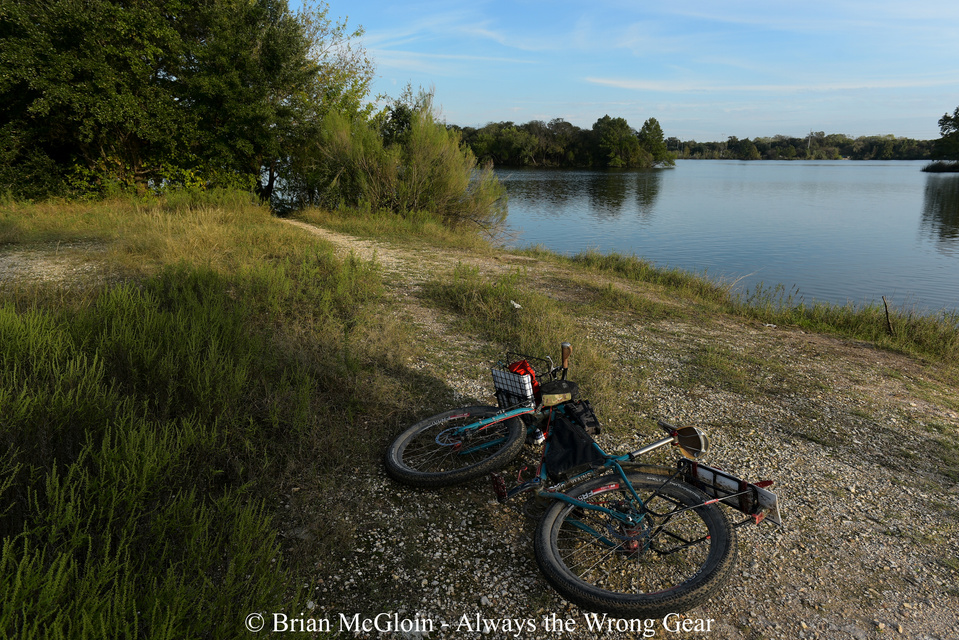 Actually … I had the Rabbit Holes originally but thought the DT Swiss would be better to use my favorite tires: Schwalbe Marathon Mondial 26 x 2.15. I replaced the Rabbit Holes with the FR570 and mounted the Surly Extraterrestrial 26 x 2.5 tubeless. I bought and sold so much stuff, I can't keep it straight. Somewhere I sold the Marathons, bought the Extraterrestrials.
Somewhere along the line, I replaced the Shimano XT 170mm cranks I bought used for cheap with Shimano Zee 165mm cranks, which I much prefer. They fit nicely with the Stainless Steel Phil Wood bottom bracket and Wolf Tooth 30t stainless steel chainring (it had an offset so it could work with 104 BCD cranks) and red Wolftooth bolts (the ring had threads). I went with 10-speed Shimano XT 11-36 cassette, a Zee 10-speed derailleur and a 10-speed Microshift shifter. An orange Jagwire cable connected it together. I when I rode the Seattle to Portland route, I had the chain too short by a link and didn't think the route would be so dusty, so I didn't bring chain lube. There was a load of friction in the low gears and I had problems shifting.
[Format isn't letting me embed links, so here is a link to that Seattle - Portland ride: https://www.alwaysthewronggear.com/blog/seattle-to-portland-the-dusty-way]
After that trip, I thought I needed lower gears, so I bought a SunRace 11-42 cassette and the Wolf Tooth link to make the Zee derailleur work where it technically wasn't supposed to.
I never got it right, the thing didn't always shift the way I wanted, and I was getting irritated. I used Surly Monkeynuts to keep the rear axle spaced properly, which placed it slightly behind the bolt of the derailleur, which could have added to the problems.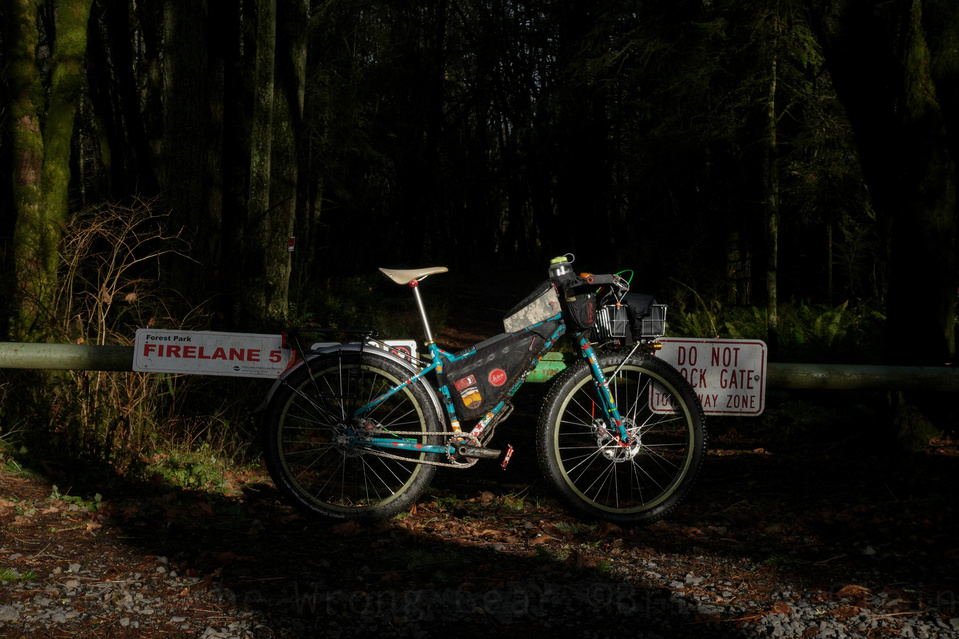 THE STORY CONTINUES HERE: Before I left for the Seattle to Portland mountain gravel ride, I replaced the dented, aluminum freehub body on the 240s hub with a steel one, and the 18t ratchet with the 54t. I used a DT Swiss RWS skewer to hold the wheel on, which worked great until the nut stripped. I replaced the fancy DT Swiss nut with a cheap one and it's held just fine ever since.
I thought about my problems shifting (thinking it could just be the frame or hanger out of alignment, my meat-fisting attempts to fine-tune cable tension) and my inability to master riding with multiple gears, how I still pushed the bike up crazy hills – while pushing up that crazy hill in Gifford Pinchot (I think) on my birthday a couple of Julys ago.
That's when I decided to go back to single speed and leave this silly multi-geared nonsense behind.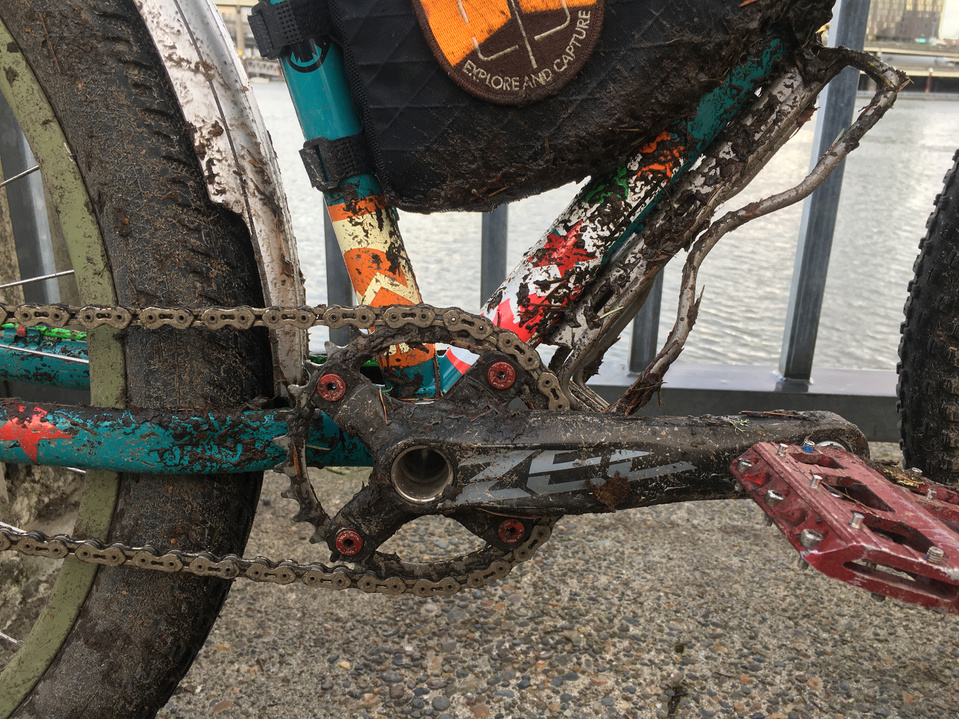 To go back to single speed, I removed the chainring, cogs, derailleur and shift lever and replaced it all with a Surly 32t stainless steel chainring, a KMC 3/32 BMX chain and a Phil Wood stainless steel 18t cog. The cheapest spacers I could find were carbon fiber, hilariously. I know someone will ask about gearing: 32:18, 165mm cranks.
It's a little slow on pavement but on dirt or gravel, it seems to be pretty snappy, comparatively. It's more of an "easy cruising" sort of gearing, rather than something … "fast."
I still have to push up BIG hills, but overall, it rides the same, but better. It would be nice to have larger gears to go faster on hard surfaces, and lower gears to trawl over rocks and crazy things, but this is good. I did an overnight bike trip to Ainsworth State Park the other day and was able to pedal most of the climbs over Vista Point and Corbett seated.
[Format isn't letting me embed links, so here is the Portland - Ainsworth ride: https://ridewithgps.com/routes/29631106]
I've been riding bikes since the mid-1980s, and most of the time it's been single speed, with a good 15-ish years of brake-less fixed gear riding (on the same frame) so For me, the three basic speeds are all I need: Pedal, push, stopped.