AUSTIN – I wanted to make use of the water bottle (I refuse to use the term "bidon") mounts under the downtube of the Surly Troll for their intended purpose.
I first had a red plastic Specialized water bottle cage from my ancient Rocky Mountain that I pressed into use to hold a 1-liter Zéfal Magnum water bottle on my Great Divide run. It worked, and it used what I already had.
Here are two action shots of that arrangement:
Something about it wasn't quite right. The Specialized cage seemed fragile and when empty it collected mud. OK, it's not fragile – at least I haven't broken it – but it does limit me to either regular cycling water bottles or the larger Zéfal bottles.
Somewhere in the Internet a year or so ago, I discovered the handmade titanium Many Thing Cages made by King Cage in Durango, Colo. I initially scoffed at the price, but then I decided to buy one knowing it would bug me if I didn't.
The Many Thing Cage requires three mounting bolts, but the Troll only has two on the underside of the downtube, where I plan to mount it. (The fork blades and upper part of the downtube have sets of three) The solution is the hilariously named USB, or Universal Support Bolt.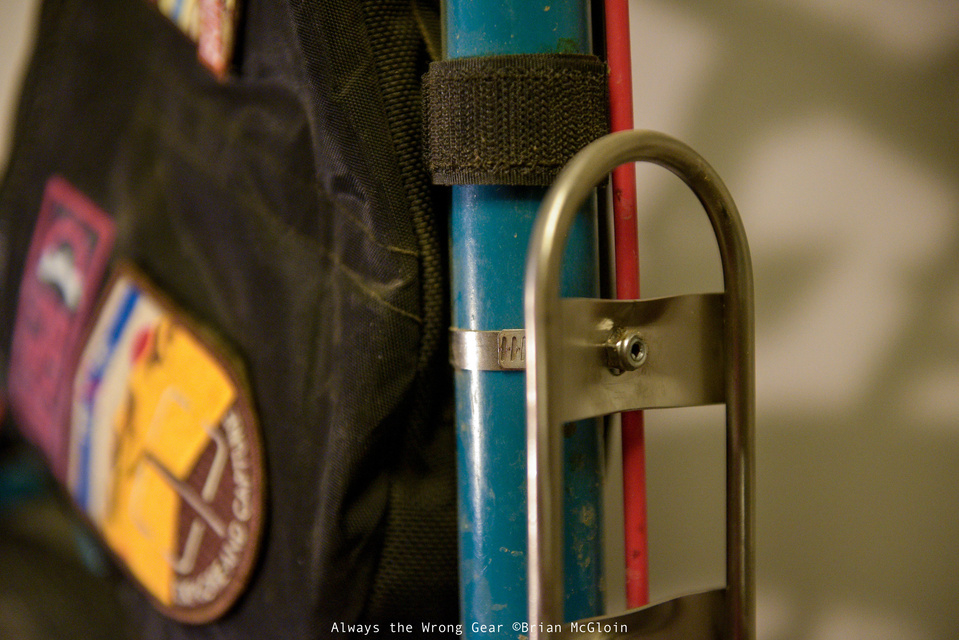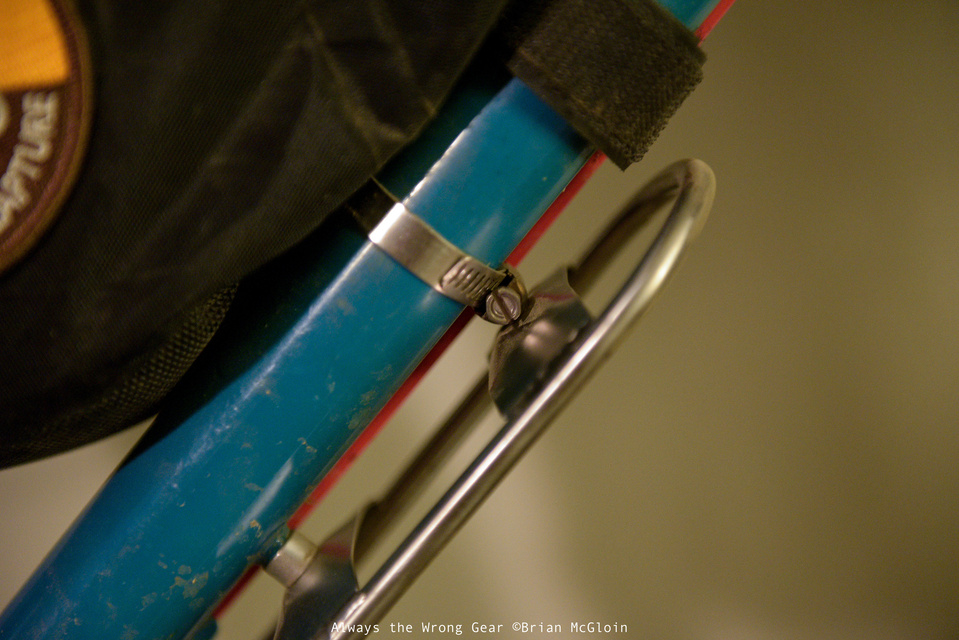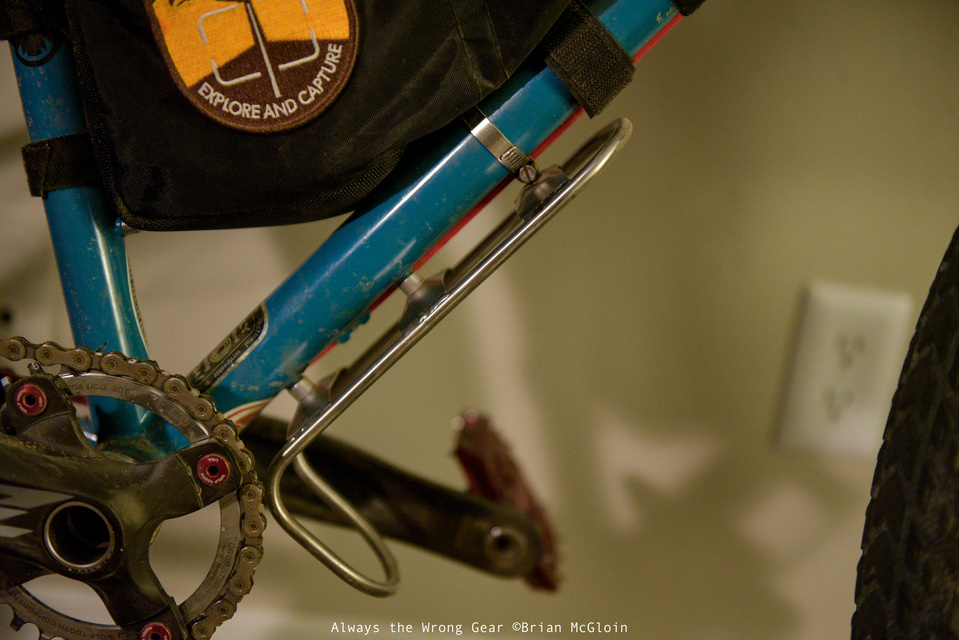 The USB adds a cage mount where one doesn't exist. It works for Salsa Anything Cage HD, King Cage Many Thing Cages, water bottle cages and other things. The supporting members of of the cage have a concave shape that seems to let round objects like bottles rest firmly in place. It looks like it might flex or be delicate, but it's nothing like that.
The Many Thing Cage is a bit of USA-made, titanium magic.
It is out of the way, weighs nothing (or slightly less) and doesn't collect much mud and grit from the front tire when empty.
There is one caveat, however, with the USB. Since it's a small bolt welded to a stainless steel hose clamp (a gloriously simple idea), it necessitates spacers to use it in conjunction with existing braze-on mounts.
Take a look in the above photo to see what I mean.
Being able to take advantage of the available space of the underside of a downtube, in addition to keeping something heavy like a stainless steel bottle full of water firmly attached in the lowest center of gravity both have giant advantages.
Look in the below photo, the bottle just disappears under the bike.
The Many Thing Cage comes with Voile straps, which, when used to strap a bottle down (I like to strap them around the frame, and not just the cage) make for a solid means of carrying a stainless steel Kleen Canteen.
I used a 1l/32oz bottle because that's what I had. I haven't had a chance to try out the larger size 64 oz Kleen Canteen, although I'm very curious about it. The 1l bottle seems to disappear under the frame, and fits with room to spare between the cranks with the Trolls 68mm bottom bracket/traditional MTB Q-factor.
A fatbike will yield more space for even bigger bottles … or perhaps a small watermelon or something. Actual capacity will vary with frame size, wheel size, tire size, front suspension (more accurately: front suspension compression) and Q-factor. Something larger like the Salsa Anything Cage HD is better for soft things like drybags, or something giant like a 64oz Kleen Canteen. However, it's wider and potentially more prone to damage when empty.
I haven't tried a Many Thing Cage with a drybag and/or on a fork leg, but I suspect it will work fine, but the Anything Cage may be superior in this use. Or, maybe a Blackburn Outpost Cargo Cage, which I believe uses a two-bolt system.