PORTLAND, Ore., — On many Friday mornings in the Before Times I met up with other Portland bike people in what was partially a social gathering, partially a bicycle fashion show and showcase for every conceivable way to heat water and/or brew coffee. This story recalls what has become one of many pandemic-lost events that may eventually return.
I rolled over to Laurelhurst Park way too early this morning for what has become a Friday morning tradition, Coffee Outside. As the waning darkness of late-night gives way to dawn, I meet with other Portlanders at a different park every week to bullshit about home repair, business plans and titanium sporks.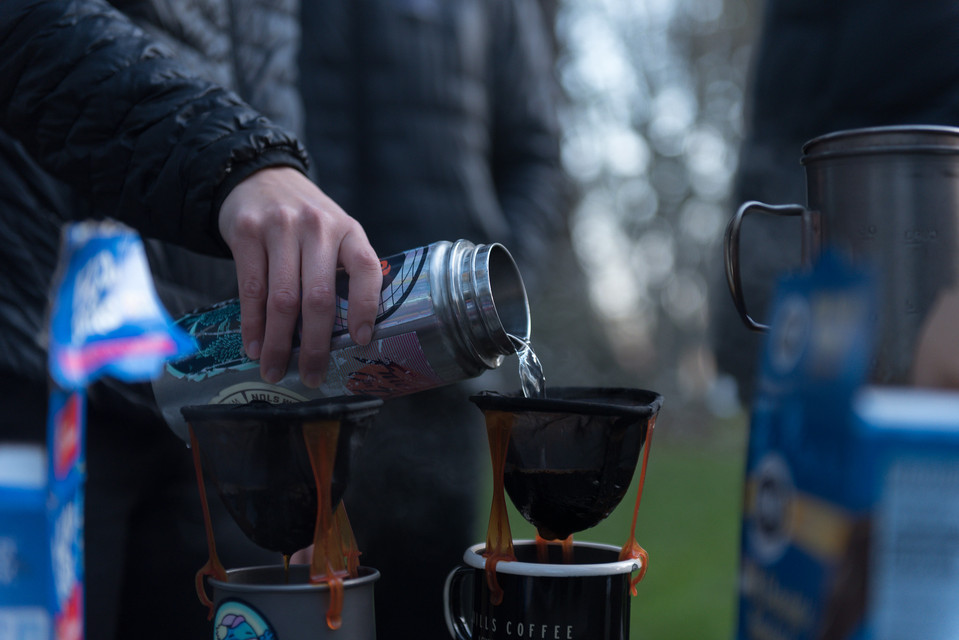 People bring all sorts of different camp stoves and methods of making coffee — I roll with Jaipur Avenue brand instant chai. My wife made me a batch of small cinnamon and sugar-coated muffins to share. Kirsten brought a loaf of lemon bread, someone else brought banana bread. Chaise or maybe Aaron brought Pop-Tarts.
Laurelhurst Park generally draws a big crowd, especially on the first warm mornings of spring; however, during the winter months fewer people drag themselves out of bed to meet up — some are already up and about long before the 7 a.m. suggested start time, which is mind-blowing. One morning it was just one of the 3 bearded guys who I'm pretty sure are the same person (one of them said they were all the same, and another one said they were not. I think) and an interesting young man who may have been a drifter. I shared some of the blondies my wife baked the night before and we bullshitted about travel and Portland and Lower MacLeay Park, where we all stood under a roof sheltering a picnic table.
Coffee Outside was a good excuse to get moving early on a Friday morning. It introduced me to parks I may not have known about or visited very much, and more importantly, it was a good reason to meet some seriously legit people.